Wide selection of colours and designs for more individuality
medi combines the world of medicine with the flair of lifestyle: a colourful selection of medical devices such as compression garments, supports and braces are available in trendy designs: because if you like something, it will make you happy and you will enjoy wearing it. medi's products are marked first and foremost by their versatility, the many combination options they provide, their first-class finishing and that feel-good wearing factor - precisely because it is vital for successful treatment that wearers of medical devices also find them attractive.
Treating veins with medi's colourful compression garments: chic, colourful – and thanks to compression – a real treat for the legs
Venous therapy should be as comfortable as possible: so-called "support stockings" used to have a reputation for being old-fashioned and uncomfortable to wear. With today's medical compression garments – which are still often confused with support stockings – there is no longer any question of this: patients who like their garments to be colourful, full of variety and comfortable make the right choice with mediven. Besides the tried-and-tested standard colours, mediven compression garments are also available in trend colours and in many different skin tones. This enables patients with venous disease to match their compression hosiery to their individual skin type and even to any season they wish, i.e. from pale to sun-bronzed skin. Patients with venous disease can combine high medical efficacy with well-being and trendy fashion with stylish up-to-the-minute compression garments.
Treating oedema: be bold with fantastic colours and patterns
The medical compression hosiery (arm and leg garments) for patients with oedema is available in both standard and trend colours as well as with patterns.
By the way, did you know that every third flat knit stocking that leaves our company was ordered with a sophisticated pattern? – patients with oedema love mixing and matching their individual stockings with colours and patterns!
Eye-catcher: trendy supports and braces
The aim of treatment with medi supports and braces is to get the user moving again quickly. Designs and trendy colours set visual highlights and are inspiring to wear. medi's supports and braces are real eye-catchers.
medi supports and braces stabilise, protect and set new visual standards. Top athletes such as the German Skiing Association skiers, the medi bayreuth German League basketball players, and professional alpinist Stephan Siegrist are inspired!
Incidentally, the sporting support collection E+motion has already been awarded two prizes: in the design category of the iF Award and the Red Dot Design Award for the outstanding design.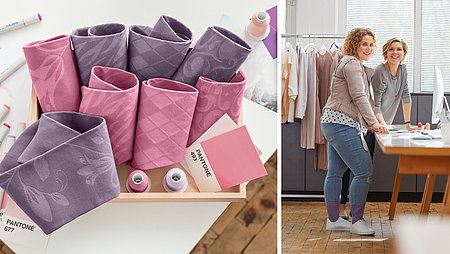 Colours for oedema treatment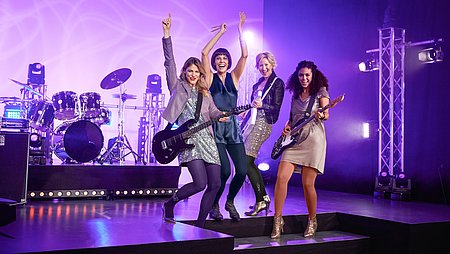 Colours for venous treatment