What is medi vision®?
medi vision combines a tablet with a 3D camera and specially developed software. It supports from taking measurements to ordering – in the specialised medical trade or on the move in home and hospital care.
The medi vision app allows mediven compression supports for round and flat knits to be configured easily and effectively. A specialist can easily and clearly enter all relevant data into the digital measurement sheet – by hand, Apple Pencil or 3D scan. The scan generates an exact 3D model with all relevant dimensions almost without contact. The entered measurement data is then automatically fed into the ordering process in the medi e-shop.
The result: products that always fit perfectly and satisfied customers with advanced advice and safe supply.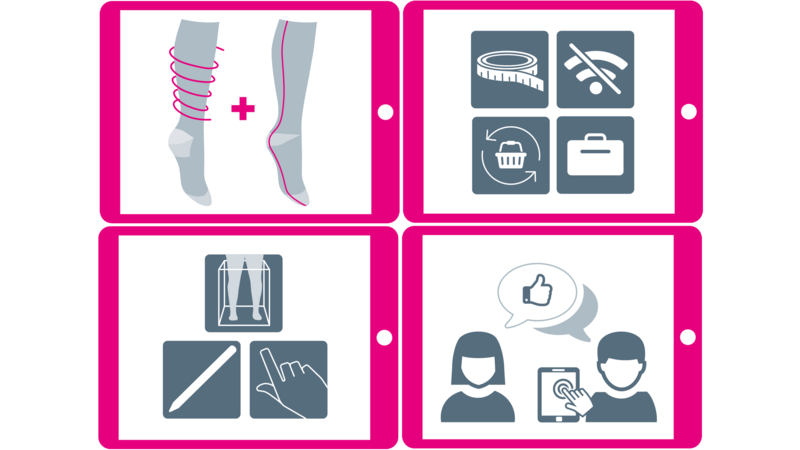 medi vision®: benefits for patients and providers
One app for round and flat knit: the simple and effective way to find the right mediven compression fitting.
Measure first, order later: can be used in specialist shops and flexibly on the move. 
Digital measurement sheet – convenient and easy to fill out: by hand, with Apple Pencil or 3D scan.
Satisfied customers thanks to advanced advice: comfortable, hygienic and safe care.

Scan function
The trained specialist scans the patient's legs with a 3D camera. The tool generates an exact 3D model with all the relevant dimensions. This is done digitally, ergonomically, comfortably and almost contact-free at a distance of approximately 2.2 metres.
Functions for specialists: medi vision® is flexible, mobile and convenient

With and without internet:
medi vision is a digital system that flexibly supports you in your daily work: you can use it online and offline to generate the necessary measurement data for treatment.
Guided product configuration:
The application guides you through the programme until you have configured a patient-specific fitting.
Automatic tensile dimension calculation:
(based on medi flat knit algorithm, for which a European patent has already been applied)
medi vision calculates the tensile dimension automatically after the skin measurements have been recorded by scan or by hand. Specialist expertise can never be replaced in this process, because defined control measurement points are always re-measured.
"Automatic calculation of the tension measurement in the medi vision app helps me, even as a newcomer to the industry, to support my colleagues with flat knit fittings. We measure manually at defined control points so that our patients receive a perfect compression fitting."
Stella Weber, Specialist at Sanitätshaus Rulitschka, describes her favourite medi vision function, "automatic tensile dimension calculation"
Measurement data comparison:
You can see the deviations in the circumferential and length measurements compared to the last visit at a glance. This enables you to provide a patient-specific fitting.
medi e-shop:
Benefit from data transfer and order conveniently online in one step through the medi e-shop.
Mobile applications:
medi vision can be used flexibly both in specialist shops and on the move during home or clinic visits.
Other functions:
Note field, patient setup, export of dimensional data and product configurations, standard size finder, digital order option
"What I like most about medi vision is that it can be used so flexibly. As I can use it without an internet connection, the digital system helps me even when I'm out in the field – for example, in hospitals or with patients at home."
Timo Scholz, Specialist at Sanitätshaus Scholz, talking about the mobile use of medi vision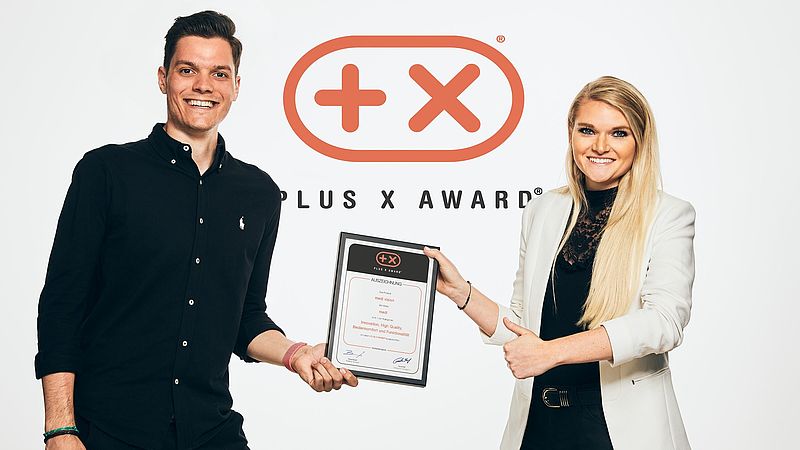 medi vision® picks up many awards
medi vision® gathered many awards: in 2021 the digital tool was awarded the Plus X Award in the Innovation, High-Quality, User Comfort and Functionality categories – and also named "Best Product of the Year" in Compression. With this, medi vision is building on its success from 2020, when it received the German Innovation Award and the German Brand Award in various categories.
Do you want to impress your customers with medi vision®?
Additional information for specialists:
Contact your medi compression sales representative!
Our Digital Services team is also there for you:
Phone: 0921 912-969
medivision@medi.de
​​​​​​​Monday to Friday 8 a.m. to 5 p.m.