A better quality of life: Comfortable venous and oedema therapy with mediven
With medi's 70 years of expertise in the field of compression and holistic concepts, mediven products aim to achieve therapeutic comfort. The compression stockings will impress any user with their different functional properties. The dialogue with patients and our desire to respond to their needs have resulted in the wide range of mediven products. Different product lines and accessories enable patient-specific therapy.
Modern colours and patterns promote the joy of successful therapy and give all users an "I feel better" kind of feeling every day: The mediven observational study proves the high acceptance and user comfort of the mediven compression stockings.1, 2
mediven® cotton containing organic cotton and recycled polyamide.
Feel the difference.
mediven cotton is a round-knitted medical compression stocking with a share of 27 percent genuine organic cotton. The noticeably soft natural fibre organic cotton is also suitable for sensitive and allergic skin. This has been dermatologically tested 3 for mediven cotton and given top marks. The optimal combination of natural and functional fibres provides a thermoregulating effect: cooling at higher temperatures and isolating warm in cold weather.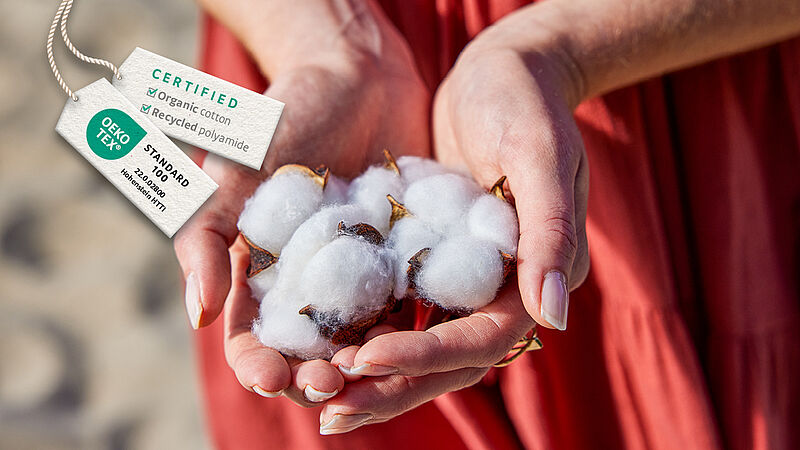 Make a difference.
With responsibility for people and the environment
The cultivation and processing of traditional cotton usually involves the use of genetically modified seeds, harmful pesticides and hazardous chemicals. In addition, the water consumption is enormous. That is why we chose for GOTS-certified organic cotton 4 for mediven cotton. Together with the use of GRS-certified recycled polyamide yarn 5 – for transparency and trust and a step towards more sustainability.
All about mediven cotton
Fully and flawlessly supplied with mediven: Sophisticated extras for your well-being
A custom-made body, special foot tips and anti-slip sections are just three of the options to choose from to ensure that you feel completely comfortable with your mediven compression stockings.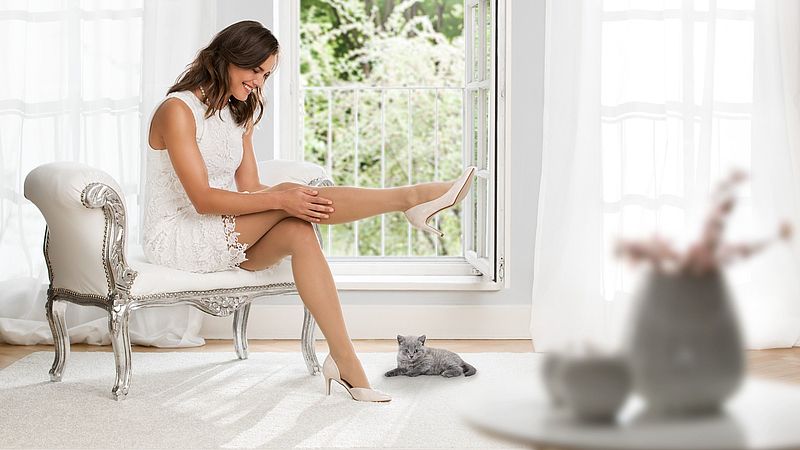 Compression stockings for diseases affecting the veins
Round knit mediven compression stockings are an important component in the therapy of venous diseases and in thrombosis prophylaxis.
They are also available as knee-high stockings, thigh-high stockings and as tights for lighter legs during pregnancy.
Go to mediven round knit products
mediven Stocking Finder
Which stocking for venous treatment is best for you? Find your mediven compression stocking in just a few clicks.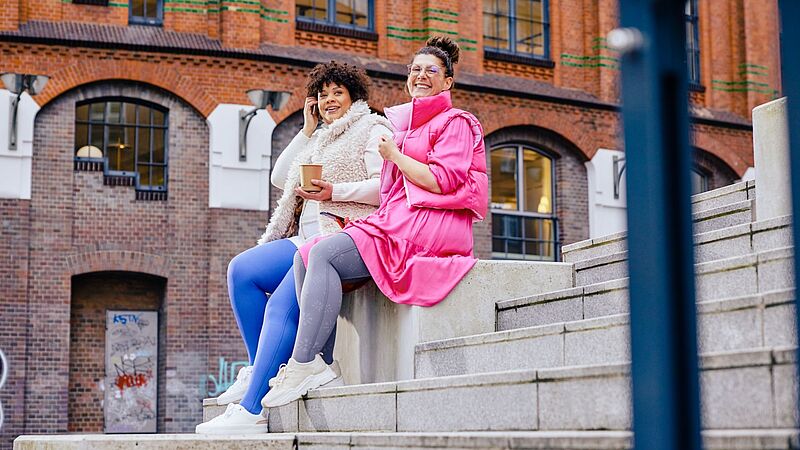 Medical compression stockings for lymphoedema and lipoedema
Flat knit mediven compression stockings are used for lipoedema and lymphoedema. They are always custom-made, to be as individual as the people who wear them.
To Flat Knit Products
medi Pattern and Colour Finder
Quickly and easily configure your stocking for oedema therapy with the Pattern and Colour Finder.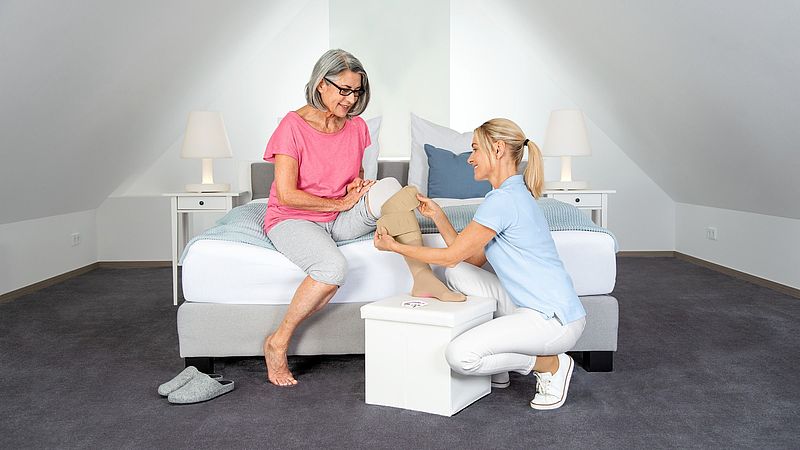 Guideline-based and patient-specific therapy of leg ulcers
The medi therapy concept for leg ulcers includes medically adaptive compression and medical compression stockings. It connects the acute phase with the relapse prophylaxis and supports the patient throughout the therapy for the leg ulcer.
To the therapy concept for leg ulcers
What's more:
In contrast to support stockings, medical compression stockings have a defined pressure curve and therefore provide a medical benefit. They therefore differ from support stockings and can be prescribed by a doctor if necessary.
Supplementary products: Donning aids and even more accessories for mediven compression stockings
Many users need support in handling their medical compression stockings. That is why medi has a number of different donning and doffing aids in its product range, which significantly simplify the daily handling of medical compression stockings.
Especially in compression therapy, the skin longs for special care. The medi skincare products have been developed for this purpose. They have been specially designed for vein and oedema patients and pamper the skin thanks to their valuable design characteristics.
Stocking care also plays an important role. Cleaning according to the manufacturer's recommendations protects the knitted fabric and ensures a long service life of the stocking: medi also offers special products for this purpose.
1 Schwahn-Schreiber C et al. Langzeitbeobachtung zur ambulanten Therapie phlebologischer Erkrankungen mit medizinischen Kompressionsstrümpfen in Deutschland – die mediven®-Beobachtungsstudie. Phlebologie 2016;45(1):15–24.
2 Schwahn-Schreiber C et al. Versorgungsrealität mit medizinischen Kompressionsstrümpfen im ambulanten Bereich. Folgeanalyse der mediven®- Beobachtungsstudie. Phlebologie 2016;45(4):207–214.
3 Epicutaneous test for sensitive skin – performed by the independent dermatological institute Dermatest®, Epicutaneous test for allergic skin – performed by the independent dermatological institute Dermatest®
4 Yarn used in mediven cotton is GOTS-certified by the yarn supplier; GOTS = Global Organic Textile Standard (www.global-standard.org)
5 Yarn used in mediven cotton is GRS-certified by the yarn supplier; GRS = Global Recycled Standard (www.textileexchange.org)