Paediatric orthopaedic care with supports and insoles
Cycling, playing tag, horseplay. The games that we over 30s used to play every day are facing tough competition these days: the "digital natives" of today now spend their free time with digital technologies such as the Internet, smartphones and computer games. Digitalisation gives our children a new sense that all the information they need is always available – no matter where or at what time. But our children are moving about less: boys and girls spend most of their time sitting - at school during the day, doing their homework in the afternoon and in front of the computer or television in the evening. Sitting immobile like this is harmful for our muscles and locomotor apparatus. The lack of physical exercise is seen as the main cause of back pain. According to medical studies, 30 to 60% of children already have poor posture when they start school1.1 This is where the paediatric orthopaedic specialist can help.
Orthopaedic products especially for children
Orthopaedic products especially for children are available to care for young patients from top to toe. The medical devices boost the healing process and ensure that the children are soon back on their feet. medi manufactures medical devices especially for children that are suitable for a child's anatomy.
The supports, braces and insoles have been designed to exactly meet the needs of children and are very comfortable to wear. Treatment should be as comfortable as possible for the children. An exact fit, a modern design and the brightly coloured look ensure that the children enjoy wearing the medical device regularly. This guarantees successful treatment.
Forty percent of Germans complain of occasional back pain. Headache can also be caused by faulty posture. According to the 2014 Health Report from the "Techniker" statutory health insurance fund, every twelfth person in gainful employment was unfit for work due to back problems – 17.5 days on average. The causes of this can often be traced back to childhood. Faulty posture becomes apparent as pain in teenagers and often grows worse in adulthood. The spinal column is particularly prone to faulty development during the growth spurt in puberty2
More physical exercise – fewer postural problems and accidents
The German Ministry of Health has also highlighted the causes: "The simple key to fewer postural problems and children's accidents is, and remains, more physical exercise. The figures speak loudly and clearly for themselves: 12 percent of children under 14 have poor posture, three quarters of these cases are attributable to inadequate physical exercise. Experts estimate that at least 60% of childhood accidents could be prevented by preventive measures."3
Speciality paediatric orthopaedics
Paediatric orthopaedic specialists often have to deal with fractures, children suffer these more often than adults. Wrong risk assessment, wild romping around, but also less stable bones during the growth phase, are some of the reasons for this4 If they sustain a fracture, the essential requirements for child-appropriate treatment are rapid pain relief and an efficient therapy.
Orthopaedic treatment always aims to achieve maximum mobility for the young patients to encourage physical exercise and co-ordination, while at the same time stabilising the affected joint and relieving pain. A major advantage of paediatric orthopaedics is that deformities can be corrected better in children than in adulthood.
Orthopaedic medical devices for children – a special challenge
Providing children with an orthopaedic medical device presents a special challenge. The support, brace or insole must be matched exactly to the child's individual needs. The medical device should exert its optimum effect, while impeding the child as little as possible in everyday life. Last, but not least, we must make sure that nothing presses or pinches as they play and run around. Doctors, physiotherapists and surgical appliance retailers collaborate to give the children the very best possible care.
After the doctor has prescribed the medical device, the medical retailer matches the support or brace individually to the patient.
Dr Stefan Wilke, Specialist for orthopaedics, accident surgery and paediatric orthopaedics in Berlin: "The lack of physical exercise is probably the biggest problem".
Sources:
1 Ketelhut K. (2003), Deutsche Zeitschrift für Sportmedizin, Band 10 [German Sports Medicine Journal, Volume 10]
2 1 to 15 April 2011, © Landeszentrale für Gesundheitsförderung in Rheinland-Pfalz e.V. (LZG), [Rhineland Palatinate Central Office for Health Promotion], text: Dr. Beatrice Wagner, editor: Birgit Kahl,
3 Press release No. 76, German Ministry of Health (Berlin, 04 November 2008)
4 Cf. Kraus R, Wessel L: The treatment of upper limb fractures in children and adolescents. Dtsch Arztebl Int 2010; 107(51-52): 903-10. DOI: 10.3238/arztebl.2010.0903
The right orthopaedic foot orthotics for every foot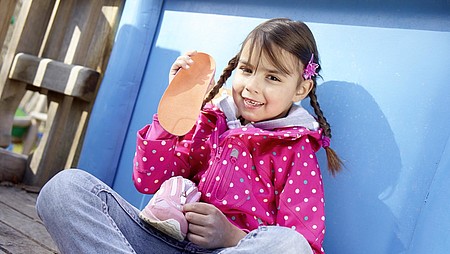 Treating foot problems
Recognize foot deformities, correct them and treat them preventively